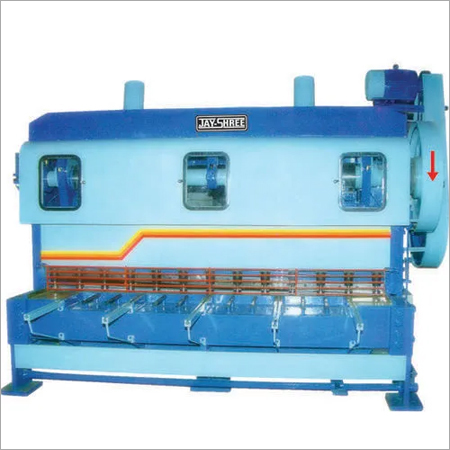 Over Crank Shearing
Price And Quantity
Unit/Units

500000.00 - 5000000.00 INR
Product Specifications
Hydraulic Shearing Machine

Stainless Steel
8-10 Millimeter (mm)

240 Volt (v)
300-500 Kilograms (kg)

1 Year
Product Description
Our array of Over Crank Shearing has a solid steel frame that protects the machine from harsh impacts. Their revolving key clutches that are linked to the main gear of the machine are the reason that these function with absolute efficiency. The efficient and sharp blades of our engineered Over Crank Shearing are of high quality and performs a durable & reliable service. These are also famous for their seamless finish that we get after lubricating our machines' surfaces using manual lubrication systems. For the safety of users, a quality accredited finger guard is attached to the front of the hold down area. These machines are energy conserving in nature.
Features:

Optimum Shearing Condton By Variable Rank Angle

Rapid blade clearance adjustment by livers

Hydraulic Hold Down To Avad Slppage of Sheets

User friendly interface



Standard Accessories :

Gears & Wheel Guards

Hand operated back Gauges

T-Slot Front Supporters

Front Scale Gauges

Hydraulic Hold Down

Instruction Manuals



Optional Accessories :

Automatic Lubrication Systems

consist of Electric Motors

Control Panels

V-Belts

Stroke Counter, etc.
FRAME :
Rigid Steel Frame of Kishan Shears are optimally designed to avoid weak sections and is of interlocked design. The Ram is guided throughout its length by accurate machined guideways ensuring proper clearance and clean cut.

CLUTCH, BRAKE & DRIVE :
Revolving Key Clutch linked with the Main Gear engages every time when Foot Pedal is pressed. Drive provided through V-Belt & all journals are fitted in Gun Metal Bearings. Brake is adjustable and incorporated on end of Crank Shaft.

HOLD DOWN SYSTEM :
Hydraulic Hold Down Pads are actuated by Hydraulic Power Pack / Cam Operated Pump. Hydraulic Hold Down Pads hold the Sheet securely to avoid slipping and bowing resulting in clean square cut. Hold Down units are provided with oversize pads to avoid impressions on sheet metal on request.

BLADES :
Kishan Shears are provided with high quality single segment (HC HCR) Blades for longer tool life. Ease in assembling of knife reduces down time, the Shear Blades are four edged.

LUBRICATION :
All bearing parts and guide surfaces are lubricated through hand operated lubrication system.

MECHANICAL BACK GAUGE :
This is a standard equipment provided on all Kishan Shears. Scale on the back gauge gives instantaneous reading of distance Between Shear and Back Gauge, thus avoiding errors and maintenance encountered in electronic equipment.

FINGER GUARD :
Fitted in front of hold down for operator protection without obstructing viewing.

POWER SUPPLY :
400/440 Volts, 3 Phase, 50 Cycles, All Dimensions Are in mm.

STANDARD ACCESSORIES :
Gear & Wheel Guard, Hand Operated Back Gauge, Manual Lubrication System, T-Slot Front Supporters, Front Scale Gauge, Hydraulic Hold Down & Instruction Manual.

OPTIONAL ACCESSORIES :
Automatic Lubrication System, Electricals consist of Electric Motor, Control Panel, V-Belts, Stroke Counter, Ball Roller or Ball Transfer, N. C. Back Gauge, Extension Squaring Arm, Foundation Bolts, Motorised Back Gauge With DRO.
Specifications :

Model

Cutting
Cap. In Ms
Length X
Thickness

Stroke
Per Minute

Table
Height

Table
Width

Front
Gauge

Rear
Gauge

Motor
Hp/Kw

Blade Length X
Width X Thick

Overall Dimension In Mm (APP.)

Length A

Breadth B

Height C

KSOC-1

1270 x 6

25

750

450

600

600

7.5 / 6.5

1270 x 75 x 18

2200

1900

2200

KSOC-2

1525 x 6

25

750

450

600

600

7.5 / 5.6

1525 x 75 x 18

2500

1950

2300

KSOC-3

2030 x 6

25

750

450

600

600

10 / 7.7

2030 x 75 x 18

3000

1950

2300

KSOC-4

2540 x 6

25

750

450

600

600

10 / 7.7

2540 x 75 x 18

3550

1950

2300

KSOC-5

3125 x 6

25

750

450

600

600

15 / 11.2

3125 x 75 x 18

4150

1950

2400

KSOC-6

1270 x 8

20

750

450

600

600

10 / 7.7

1270 x 75 x 18

2250

1900

2200

KSOC-7

1525 x 8

20

750

450

600

600

10 / 7.7

1525 x 75 x 18

2570

1950

2300

KSOC-8

2030 x 8

20

750

450

600

600

12.5 / 9.7

2030 x 75 x 18

3150

1950

2500

KSOC-9

2540 x 8

20

750

450

600

600

15 / 11.2

2540 x 75 x 22

3670

1950

2500

KSOC-10

3125 x 8

20

750

450

600

600

20 / 15

3125 x 75 x 22

4250

1950

2600

KSOC-11

1270 x 10

20

800

450

600

600

12.5 / 9.7

1270 x 100 x 22

2300

1950

2400

KSOC-12

1525 x 10

20

800

450

600

600

12.5 / 9.7

1525 x 100 x 22

2600

1950

2400

KSOC-13

2030 x 10

20

800

450

600

600

15 / 11.2

2030 x 100 x 22

3200

1950

2600

KSOC-14

2540 x 10

20

800

450

600

600

20 / 15

2540 x 100 x 22

3700

1950

2600

KSOC-15

3125 x 10

20

800

450

600

600

25 / 18.7

3125 x 100 x 25

4300

1950

2600

KSOC-16

1270 x 13

20

800

450

600

600

15 / 11.2

1270 x 100 x 25

2300

1950

2500

KSOC-17

1525 x 13

20

800

450

600

600

15 / 11.2

1525 x 100 x 25

2600

1950

2500

KSOC-18

2030 x 13

20

800

450

600

600

20 / 15

2030 x 100 x 25

3250

1950

2600

KSOC-19

2540 x 13

20

800

450

600

600

25 / 18.7

2540 x 100 x 25

3750

1950

2600

KSOC-20

3125 x 13

20

800

450

600

600

30 / 22.5

3125 x 100 x 25

4350

1950

2600

KSOC-21

2030 x 16

20

800

450

600

600

25 / 18.7

2030 x 100 x 25

3450

2100

3100

KSOC-22

2540 x 16

20

800

450

600

600

30 / 22.5

2540 x 100 x 25

3950

2200

3100

KSOC-23

3125 x 16

20

800

450

600

600

40 / 30

3125 x 100 x 25

4350

1950

3100
Trade Information
Telegraphic Transfer (T/T), Letter of Credit (L/C), Cheque, Cash in Advance (CID), Cash Advance (CA)

10 Per Year
Pondicherry, Jammu and Kashmir, Telangana, Manipur, Bihar, Haryana, West Bengal, Lakshadweep, Uttar Pradesh, Rajasthan, Himachal Pradesh, Gujarat, Nagaland, Chhattisgarh, Tripura, Arunachal Pradesh, Madhya Pradesh, Mizoram, North India, Dadra and Nagar Haveli, Chandigarh, Karnataka, Central India, South India, Goa, Assam, Andhra Pradesh, West India, Andaman and Nicobar Islands, Meghalaya, Tamil Nadu, Punjab, Jharkhand, East India, Odisha, Maharashtra, Sikkim, Uttarakhand, Delhi, Daman and Diu, Kerala, All India
Contact Us
Plot No-G-1148, Road No-G-1, Kishan Gate, GIDC Industrial Estate, Metoda, Taluka Lodhika, Rajkot, Gujarat, 360035, India
Phone :+918037402178