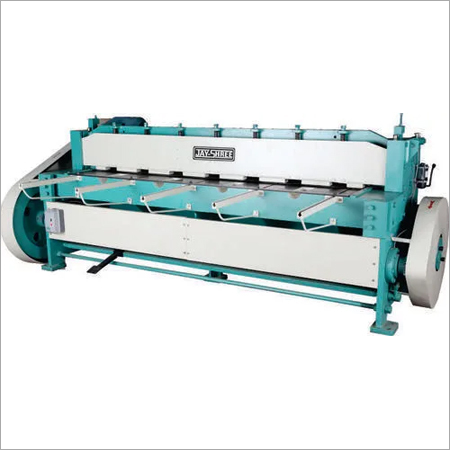 Under Crank Shearing
Price And Quantity
Unit/Units

500000.00 - 5000000.00 INR
Product Specifications
Hydraulic Shearing Machine

Stainless Steel
PLC Control

8-10 Millimeter (mm)
Product Description
Our range of Under Crank Shearing is appreciated in the market for its glitch free performance. These perform in such a manner with the help of their advanced mechanism as well as quality adjustable brakes that are mounted with top grade springs. The back gauges of our engineered shearing array are backed with quality screw drives and piston type racks that enhances the operational efficiency of our array. Our Under Crank Shearing array is equipped with the best steel side frames, RAM, blades, roiling key clutches, drive systems and other components. This wide variety of shearing is available to our clients in wide range of specifications in exchange of affordable prices.
Features
Hassle-free functionality

Excellent durability

Noise-free operations

High efficiency

Outstanding performance



Standard Equipment :

Side, Back & Front Gauges

Table extensions

Fly wheels & gear guards

Foot Pedals

Mount and motor pulleys

Hold Down divide

Set of 4 edge HC HCR Blade as well as oil Pumps (manual) for Lubrication purposes.
Side Frames :
Are of Steel Plates designed for maximum rigidity to eliminate deflection and to with stand continuous high speed performance at full capacity.
Ram (upper Beam) :
Is of solid steel plate and additional ribs on back side the ram adds to is strength, carrying the upper knife. Its maximum weight ensure lesser load on the bearing. The ram moves in accurate machined guide-ways to avoid deflection. for smooth running and maintains the proper strength of the upper knife.
Table :
Is of closed box type steel fabricated, which forms a rigid backbone for the shear and a solid backing for the lower knife. Additional ribs, under the table adds to its strength.
Blade :
Is four edged HC HCR provided for longer tool life.
Crank Shaft & Flywheel Shaft :
Is of best steel, accurately machined and runs in gun metal bearing and all other installed in gun metal bearings.
Hold Down :
Is of steel fabricated spring loaded ensures uniform pressure through out the cutting length without any slipping irrespective to the sheet.
Rolling Key Clutch :
Made of EN-24 steel for positive engagements and continuous operation having three key way. Single rolling key system is incorporated in the machine ensuring easy and efficient working of the machine.
Drive :
Is through "B" Belts on the fly wheel and other chain of job cut gears for smooth running and longer life.
Brake :
Constant spring loaded adjustable brake is provided.
Back Gauge :
In KSML 5, 6, 7 & KSMH 4 to 7 are screw drive where as in KSUG 1 to 4 & KSMH 1 to 3 are of rack pinion type designed to accuracy and easily.
Lubrication :
For sufficient lubrication oil cups and oil points are provided.
Standard Equip. :
Side, Back, Front Gauges and Table extension, Fly Wheel and Gear guards, Foot Pedal, Mount and Motor Pulley, Hold Down divide, Set of 4 edge HC HCR Blade and Manual oil Pump for Lubrication.
Technical Specifications
| | |
| --- | --- |
| Blade Size | 610x63x12 mm (LxWxT) |
| Strokes Per Min | 55 |
| Frequency | 50-60 Hz |
| Power Source | Electric |
| Voltage | 380-440 V |
| Table Width | 300 mm |
| Table Height | 700 mm |
| Pear Gauge | 600 |
| Overall Dimension | 1250x1000x1100 mm (LxWxH) |
| Motor Power | 2/1.5 HP/KW |
| Model Number | JSML-1 |
| Front Gauge | 600 |
| Cutting Capacity in MS | 610x2 mm (LxT) |
| Brand Name | Jay Shree |
Specifications :

Model

Cutting Cap. In Ms Length X
Thickness

Stroke Per
Minute

Table
Height

Table
Width

Front
Gauge

Rear
Gauge

Motor
Hp/Kw

Blade
Length X
Width X
Thick

Overall Dimension In Mm (APP.)

Length
A

Breadth
B

Height
C

KSUG-1

610 x 1

120

700

250

600

450

1 / .75

610 x 50 x 12

1200

900

1100

KSUG-2

1000 x 1

120

700

250

600

450

1 / .75

1000 x 50 x 12

1600

900

1100

KSUG-3

1270 x 1

120

750

300

600

600

1 / .75

1270 x 50 x 12

1900

900

1200

KSUG-4

1525 x 1

120

750

300

600

600

1 / .75

1525 x 50 x 12

2150

900

1200

KSUG-5

2030 x 1

120

750

300

600

600

2 / 1.5

2030 x 50 x 12

2550

1100

1200

KSUG-6

2540 x 1

120

800

350

600

600

3 / 2.2

2540 x 50 x 12

3100

1400

1200

KSUG-7

3125 x 1

120

800

350

600

600

5 / 3.7

3125 x 63 x 14

3500

1400

1200

KSML-1

610 x 2

55

700

300

600

600

2 / 1.5

610 x 63 x 12

1250

1000

1100

KSML-2

1000 x 2

55

700

300

600

600

2 / 1.5

1000 x 63 x 12

1700

1000

1100

KSML-3

1270 x 2

55

750

350

600

600

2 / 1.5

1270 x 63 x 12

2000

1500

1200

KSML-4

1525 x 2

55

750

350

600

600

2 / 1.5

1525 x 63 x 12

2300

1500

1200

KSML-5

2030 x 2

55

750

400

600

600

3 / 2.2

2030 x 63 x 14

2700

1600

1200

KSML-6

2540 x 2

55

800

400

600

600

5 / 3.7

2540 x 63 x 14

3200

1600

1200

KSML-7

3125 x 2

55

800

400

600

600

5 / 3.7

3125 x 63 x 14

3800

1600

1200

KSMH-1

610 x 4

50

750

350

600

600

3 / 2.2

610 x 63 x 14

1300

1400

1200

KSMH-2

1000 x 4

50

800

350

600

600

5 / 3.2

1000 x 63 x 14

1750

1400

1200

KSMH-3

1270 x 4

50

800

400

600

600

5 / 3.7

1270 x 63 x 14

2050

1500

1200

KSMH-4

1525 x 4

50

900

450

600

600

5 / 3.7

1525 x 75 x 18

2350

1700

1300

KSMH-5

2030 x 4

50

900

450

600

600

7.5 / 5.6

2030 x 75 x 18

2750

1700

1300

KSMH-6

2540 x 4

50

900

450

600

600

10 / 7.7

2540 x 75 x 18

3300

1800

1350

KSMH-7

3125 x 4

40

900

450

600

600

15 / 11.2

3125 x 75 x 18

3900

1800

1350
Trade Information
Cash in Advance (CID), Cash Advance (CA)

10 Per Year
Contact Us
Plot No-G-1148, Road No-G-1, Kishan Gate, GIDC Industrial Estate, Metoda, Taluka Lodhika, Rajkot, Gujarat, 360035, India
Phone :+918037402178